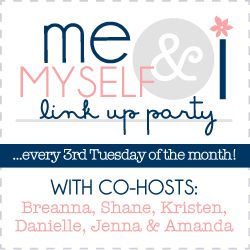 This is my second ME, MYSELF and I link-up and I'm kind of excited about answering some of the questions.
1. When you're feeling down, what do you do to pick yourself up?
I don't know why crying while watching movies pick me up but it does. So, when I am down I watch feel-good movies....did I just confuse you there? Let me explain myself...feel good movies make me cry. They give me the good kind of lump in my throat and make me cry in the middle and at the end.
2. If you had to live in another time period, which would you prefer?
I've always been fascinated with the southern culture during the Gone with the Wind era. So, I guess, I would pick that time...but then again, I'd have to be an American to live in that kind of culture and wear those dresses, which I am not.
3. What is the most creative Halloween costume you've ever worn?
I have never been to a Halloween party and I have never worn a Halloween costume. If I ever get a chance to wear one, I'd like it to be a colorful butterfly costume.
4. Name five weird things about yourself we'd never know otherwise.
- I smell drinking glasses before using them.
- There are times I take a bath five times a day.
- During the summer months, I take a bath and then leave my hair wet without combing it.
-I'm one of those people who keep changing their cellphone numbers.
- I keep have grown more than just four wisdom teeth!
5. What would you tell your sixteen-year-old self?
If I could talk to my sixteen-year-old self, I would say:
Pursue your dreams of becoming a lawyer.
Don't worry if you don't have a boyfriend now. Men would be lining up at your doorstep when you are older.
You are beautiful. Don't let anyone tell you otherwise.
Don't let anyone bully you. You are just as good as everyone else.
Don't be in a hurry to be in a relationship. Take your time. Choose well. Not all that glitters is gold.
Life does not always turn out the way you want it.
Work hard. Think before you leap. Be humble but don't let anyone put you down.

That's it for today, ladies. Link up and join in the fun!